Breakfast. Some say it's the most important meal of the day. So why is it usually a meal comprised of the most unhealthy foods? With the most sugar?!
Cereal. Poptarts. Strudels. Donuts.
And we wonder why kids have a hard time focusing and sitting still in school?
Time for a wake up call, Mamas! No one else is going to care what your kid eats, so it's up to you!
If breakfast is the most important meal of the day, then it needs to have healthy proteins and fats to help those growing brains and to keep bellies full. Actually, all meals should have those, but let's just focus on breakfast for this post!
To read more on some easy ways to start incorporating healthy food habits into your family life, check out this blog post.
You most certainly can stick with the usual bacon, eggs and toast type of breakfast. But if you're looking for something new, then keep reading.
I've compiled a list of our favorite easy and healthy breakfast ideas that make busy school mornings easier. All of these can be prepped ahead of time and stored for the week to make the morning rush a little less hectic. That's a win in every mama's book.
Many of these recipes are also dairy and egg free for those with allergies! Use gluten free oats or flours and they're gluten free, too!
Chia Pudding
Chia puddings are a great way to get those good fats into the kiddos. It's super easy to tailor to each kiddos flavor preference, too, without any added fuss. They can be made the night before, are quick and easy, and storable for a few mornings in a row. Say hello to hot coffee again, mama.
Just kidding. Hot coffee is a dream.
It's like tropical paradise in your mouth!
The healthy fats in this help to keep bellies full longer! Pair it with a protein like bacon, sausage, hardboiled egg or the protein baked oatmeal listed below and your little's bellies will be full until the next meal! Chia puddings are so versatile and any fruit your kid loves can be used!
This recipe calls for both almond and coconut milk, but I just use coconut milk. It also calls for maple syrup when sautéing the apples, but I prefer not to, and just stick with using it in the pudding portion. If you or your kiddos like things on the sweeter side, then go ahead and use it while sautéing the apples.
This was the very first chia seed pudding recipe we started with and the kids love this one! Again, I just use coconut milk and reduce the amount of maple syrup. But if you're transitioning off of the sweet stuff, you may want the full amount of maple syrup the first few times. Watch for additives if using almond milk and be sure your peanut butter ingredients are just peanuts and salt. You don't want the added oils or sugars in it.
Baked Oatmeal
This is by far our favorite recipe. But one thing I recently realized about this recipe … I've never added in the nut butter! Yup. I've made it wrong this whole time, but we prefer it that way actually. Who knew?!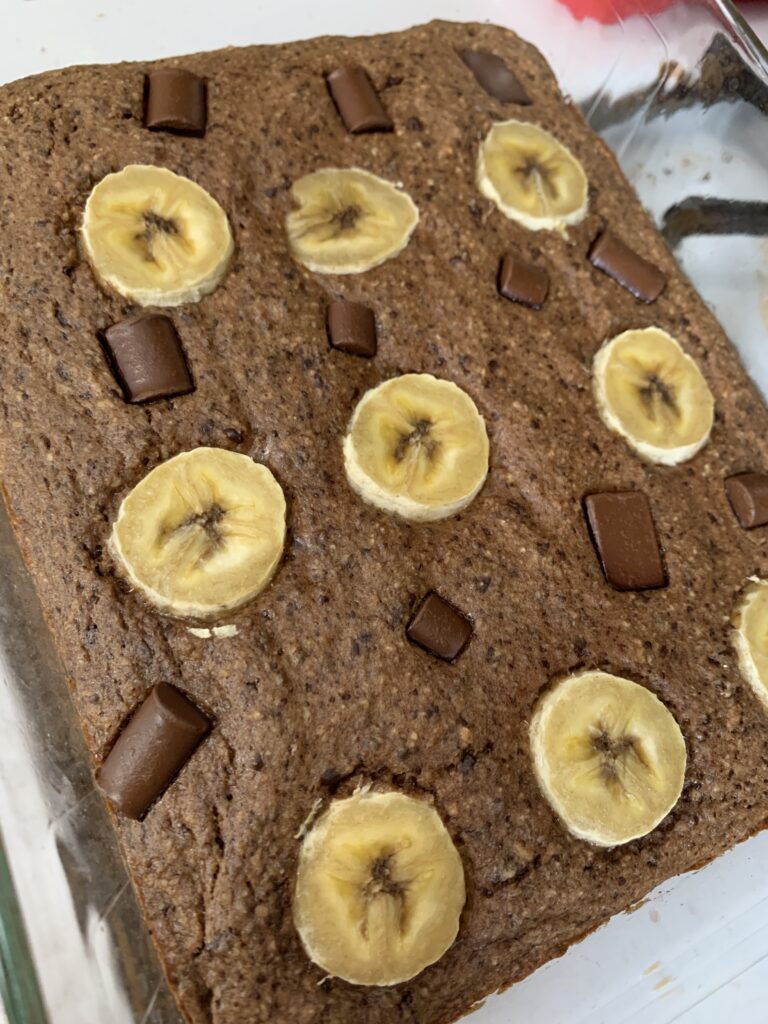 We make this on a weekly basis. I do add in chia seeds for extra healthy fats and decrease the amount of maple syrup that's added. The bananas in this make it sweet enough, especially if you're using overripe bananas. Packed full of protein and healthy fats, this one keeps them filled up! (The one in the pic is extra dark because I blended in some chocolate chip chunks. Chocolate makes everything better.)
This recipe has you make your own jam, but never fear! It's super easy! We've been making our own jam for a while now and it's as easy as boiling some strawberries and mixing in some honey and chia seeds. Seriously. That's it. You could use store bought, but check your label for added sugars!
This recipe has protein and healthy fats with the oats and chia seeds, but is even better when paired with a yogurt (either on top or on the side).
Similar to the strawberry bars above and just as delicious! No jam making needed for this one, just some blueberries.
Another version of the two above, but this one has nut butter in it for added fat and has a bit of a sweeter taste than the two above.
Pancakes
This isn't egg free and I don't suggest using an egg substitute with these. Or if you do and it works, let me know! Every time I've made them with an egg sub, they just don't turn out. But they work beautifully and are delicious with the egg! My daughter devours them so that's why they made the list, along with the fact that they're packed full of the good proteins and healthy fats to keep those tummies full!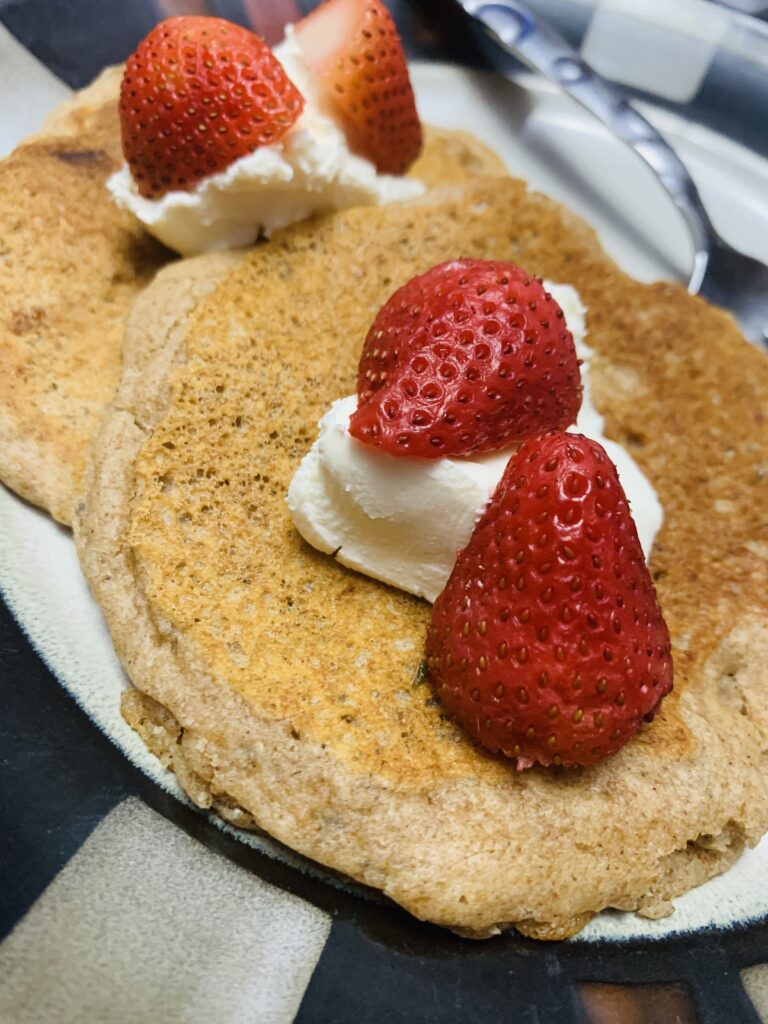 Here's one for those that are dairy and egg free! While these are absolutley delicious, they are somewhat crumbly. So to help with that, I add a mushed up banana and a chia egg (chia seeds soaked in water). I don't usually add in the maple syrup either since the kids use that as their topping most of the time. But if maple syrup isn't your thing, go for yogurt, jam, applesauce, cream cheese and berries, or a nut butter for toppings.
These pancakes are so easy to make and delicious, and definitely not just for babies! Both my big kids and my one year old love them! All I add to the recipe is a splash of vanilla. There is one egg that could be swapped for an egg replacement, but I've not done that yet.
Easy to prep ahead and freeze or just keep in the fridge for a couple of days.
Banana Splits
No, there's no ice cream in these! And even though it's just dairy and fruit, the fact that it's put together differently makes it more fun, especially when you let the kids make their own!
Chop up some bananas to put in the bottom of the bowls and pour on some yogurt (full fat dairy or dairy free if needed). Put out different toppings like strawberries, blueberries, blackberries, raspberries, walnuts, peanuts, and sugar free dark chocolate chips, and let the kids add what they want! (To save some money, buy frozen berries and pull some out the night before to thaw in the fridge over night.) Here's a super yummy (and easy) homemade granola recipe that's fabulous on yogurt! (I don't use the coconut flakes or hemp seeds in the recipe and usually add in a few other nuts. It's super easy to make this recipe your own, so go for it!)
Meatballs
These meatballs are so yummy, but you'll want to make them the day before so that the morning breakfast is an easy grab, heat up, and go.
Blueberries and meatballs?! Who comes up with these things? Seriously, though, they are DELICIOUS! It's a sweet and savory combo that is made even better when topped with a dab of maple syrup.
4 ingredients for an easy breakfast?! Yes, please! We make this at least monthly and use it for breakfast (usually alongside some yogurt), for desserts, or for a quick snack. Just make sure your peanut butter is just peanuts and salt, but no added oils or sugars. I usually add in chia seeds for an extra healthy fat, too.
This oatmeal is literally jam packed with all you need for a complete breakfast. If your kids are used to the oatmeal packets for breakfast, give this a try. Although, I'd add in some honey or maple syrup to start if they like the sweeter oatmeal. You can slowly decrease the amount of sweetener as they get used to it.
You can top it with any toppings you like. Some of our favorites include:
Strawberries and bananas
Bananas and peanut butter
Mixed berries
Peaches, coconut milk, maple syrup, vanilla and cinnamon (think peaches and cream!)
Sauteed apples and cinnamon
Pumpkin, walnuts, raisins, granny smith apple, cinnamon, nutmeg and ginger
I use coconut milk for ours and it doesn't taste like coconut, for those that are wondering. You could also just use one egg or no egg if needed. You can use either ground flax seeds or ground chia seeds in the recipe.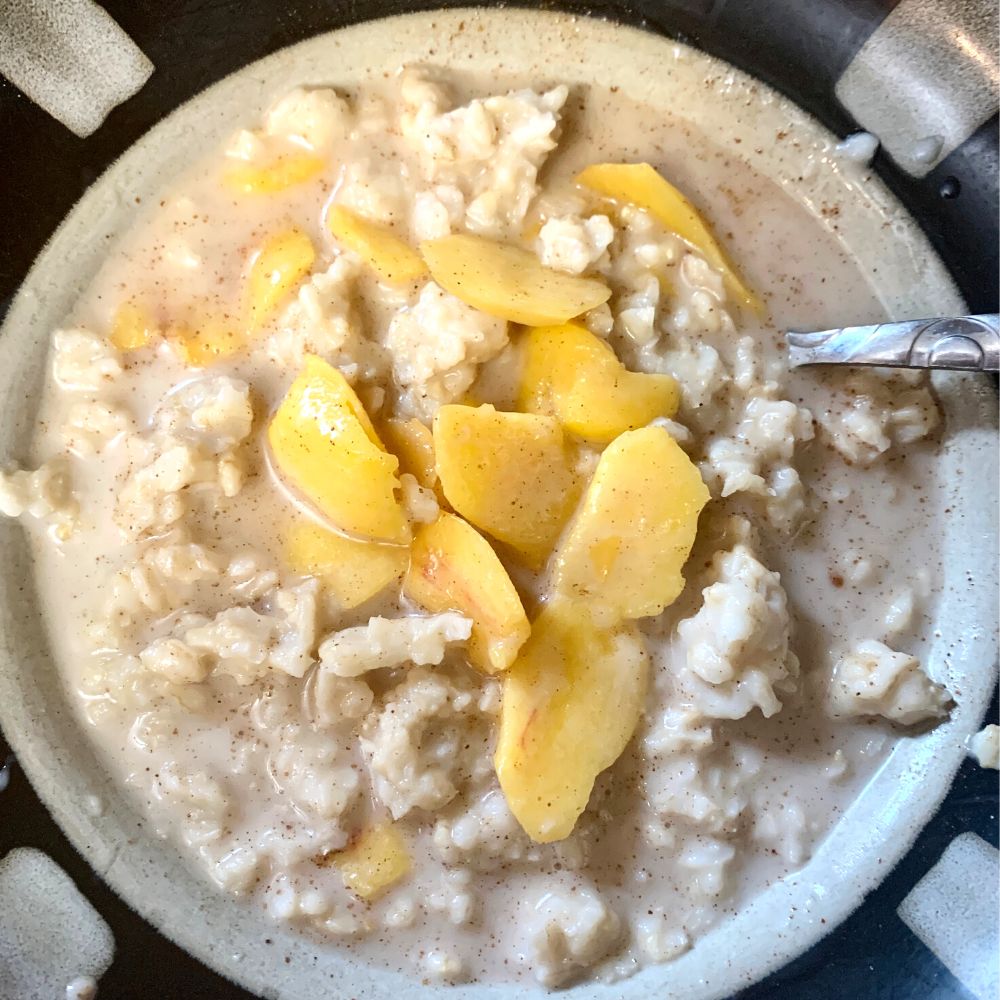 What We Use
Many of these recipes call for oats in them. We use One Degree's Gluten Free Sprouted Rolled Oats. Sprouted is easier to digest. One Degree is also a good company and they're glyphosate free.
I also usually just use coconut milk for our milk needs. The canned kind. The box kind has too much stuff in it that the body doesn't need. I open a can and keep it stored in a mason jar in the fridge.
If you have access to raw milk then go for it! I have lots to say about store bought milk, but will save that for another post.
I LOVE chocolate. But not all chocolate is good for you. We use Bake Believe's brand of dark chocolate chips or Lilly's dark chocolate chips. I have no guilt whatsoever in using them liberally in our baked goods. Or on our banana splits.
A note about yogurt. Plain yogurt is best, but truly is an acquired taste when you haven't grown up with it. And most yogurts are loaded with added sugars. There a few brands I'd recommend. Stonyfield is super yummy, though higher in sugar content with the flavored ones, but it's a good stepping stone to get to where you want to be. Two Good and Icelandic Provisions Skyr yogurt are much lower in sugar, but are also less fat. Forager is a great dairy free brand that we love, but it can be hard to find in rural areas. I'm sure there's other great brands out there too that are full fat milk and lower in sugar content, but this is what our local stores carry.
Many nut butters have extra oils and/or sugar in them. Go for the ones that are just the nut and salt.
When using bacon, be sure to check the label. There's a whole bunch of junk they put in them that aren't great for the body. Same for your breads! You can read more about understanding food labels here.
These are all in our breakfast rotation to keep things yummy and kid friendly, yet healthy. They aren't complicated and can be prepped ahead for easy grab and go's when needed. Give your kiddos a better way to start their day with some of these yummy breakfast ideas.
Do me a favor and share these easy and healthy breakfast ideas with another mama! She'll thank you for it!