This post contains affiliate links. As an Amazon Associate, I earn from qualifying purchases. Should you click an affiliate link and make a purchase, I may make a small commission at no extra cost to you. You can read more about it here.
Fall has settled in here and Thanksgiving is right around the corner here in the U.S. That means it's time for all those comfort foods to start gracing our kitchens … and our bellies! But that doesn't mean our indulgences can't be on the healthier side. I've gathered some of our favorite, easy and healthy dessert recipes for fall into one easy spot. So go ahead and bookmark this page to indulge in all things apple, pumpkin, warmth and comfort … at least for a few months!
Classic pumpkin bread. It's the definition fall flavors in my book.
This pumpkin bread by Milk Allergy Mom is actually dairy free and can easily be egg free as well, which she tells you how to do. As a side note, be sure to check out her banana bread recipe, too! It's one of our favorite dairy free and egg free banana bread recipes.
We typically use organic sprouted spelt flour for our flour needs and monk fruit sweetener in place of sugar. We also stick with coconut oil or avocado oil when it comes to our cooking oils as they're more stable when heated, leading to less chance of oxidation and rancidity. This recipe turns out beautifully even with swapping out her ingredients for ours.
I don't do the brown sugar topping for this recipe, though. I like to have cream cheese spread on mine or just butter. The kids like it with chocolate chips, of course, so I usually sprinkle the top with chocolate chips or mix it in with the whole batter.
You can never go wrong with bringing pumpkin bread to a get-together!
Pumpkin muffins
One reason I love the pumpkin bread recipe up above is because I can use it for pumpkin muffins, too! You make it the exact same way, except put it in a muffin tray and bake for half the time.
This recipe could easily be turned into a pumpkin cream cheese swirl muffin recipe, I just haven't done it yet!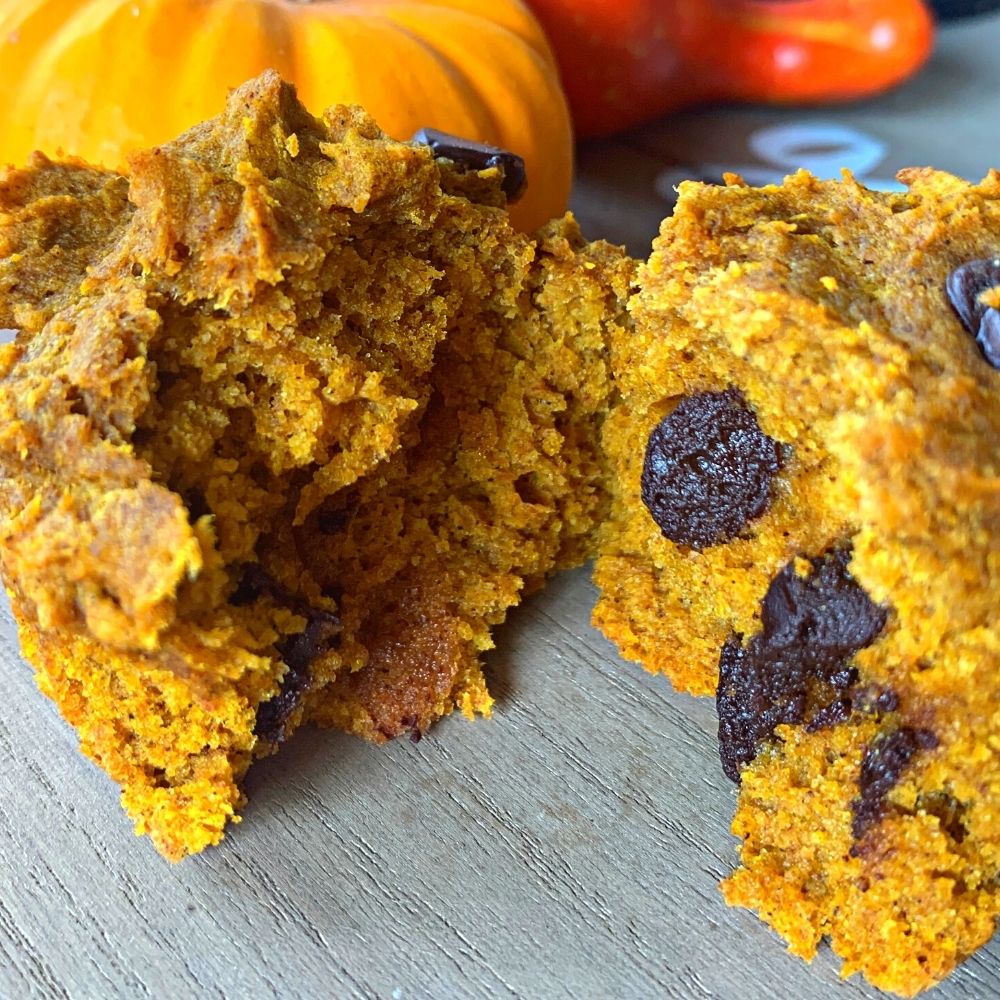 Pumpkin Raisin Cookies
My mama used to always make pumpkin raisin cookies during the fall holiday season. Since I was never a huge fan of pumpkin pie, these were my favorite dessert. Isn't there just something about being able to make a favorite food from your childhood that brings back that nostalgic feeling of sweet memories?
These cookies are more like a cake in texture than a cookie. They're so light, fluffy and moist. It's like pumpkin heaven in your mouth!
Of course, back when I was a kid the big thing was to cook or bake with vegetable oil or canola oil. Now, however, research is showing these aren't great for your health and studies continue to be conducted in regards to the long term effects of these highly processed oils. As mentioned previously, we typically use coconut or avocado oil in place of these other oils.
Well, I've revamped my mama's old cookie recipe to make it a bit healthier!
The original recipe also called for brown sugar. I prefer not to use sugar if I can help it because of the effects it has on your body. But some recipes you just can't get away without adding in some sort of sweetener. But that doesn't mean you have to settle for any 'ole willy-nilly sweetener. Sugar can be swapped out for a better version and sometimes even reduced a bit in a recipe without affecting it's taste. Maple syrup, honey, and monk fruit are a few examples of a healthier swap for sweeteners. But they're still a sweetener, which means you can't pig out on them just because they're "healthier". All things in moderation!
While it's a healthier recipe in some aspects, it's still a dessert, a treat. It needs to be treated as such. With how delicious these cookies are you're going to have a hard time eating just one cookie in a sitting. It may be best to make them when you know you're going to be sharing. You've been warned.
Pumpkin Raisin Cookies
Course: Dessert
Cuisine: American, Autumn, Cookies, Fall
Difficulty: Easy
These cookies are soft, moist and taste a bit like pumpkin heaven in your mouth. You're going to have a hard time eating just one!
Ingredients
1 cup maple syrup

15 ounce can of pureed pumpkin (not pumpkin pie filling)

3/4 cup avocado oil (or olive oil)

2 tsp vanilla

1 egg (can replace with banana to make egg free)

4 cups flour (we use sprouted spelt flour)

2 tsp baking powder

2 tsp baking soda

1 tsp salt

2 tsp pumpkin spice

1 cup of raisins (may sub with chocolate chips)
Directions
Preheat oven to 350℉.
Prepare a greased or parchment covered cookie sheet and set aside.
In a large bowl, stir together maple syrup, pumpkin, oil, vanilla and egg until well mixed with a wooden spoon or spatula.
Add all remaining ingredients except the raisins and mix together until smooth.
Fold in raisins until evenly dispersed.
Drop the dough onto the prepared cookie sheet with an ice cream scoop. Don't overload the ice cream scoop as the cookies will spread as they bake. If you don't have an ice cream scoop then use about 2 tablespoons of dough for each cookie.
Bake at 350℉ for 12-15 minutes.
Move cookies to a cooling rack. Store in an airtight container in fridge for up to 7 days, if they last that long!
Notes
Because this recipe makes about 36 cookies, baking may have to be done in batches. The number of cookies of course will vary depending on how big you make them. I use a 12×18 cookie sheet typically, but you can also use two cookie sheets and place them staggered in the oven to get two batches done at once. You may have to adjust the bake time a bit if you do it that way.
These pumpkin brownies by Shuangy's Kitchen Sink are the perfect combination for all the die hard brownie fans that want to participate in the pumpkin extravaganza that occurs this time of year.
With ingredients like almond flour, maple syrup, pumpkin puree, ghee or coconut oil, cocoa powder and spices, you can't go wrong with this version of a healthy fall brownie! I'm not always a huge fan of almond flour, but I do like to switch it up once in a while from the sprouted spelt flour we typically use. I prefer coconut flour for a grain free option, but will use almond flour once in a while. Sometimes, I'll actually use the spelt in place of almond flour and most recipes have turned out great.
When it comes to flour, if you aren't using a sourdough type (which is best as it's the most easily digested and most nutritious) then you want to be sure you're getting one that has been sprouted. Sprouting helps to increase the nutrient bio-availability of the grain, which simply means it's easier for your body to absorb the good nutrients and decreases the bad ones we don't want that can cause belly issues.
I did leave out the walnuts in this recipe, as it's not something I usually have on hand and am not a huge fan of anyways.
Because this recipe has two eggs in it, I've not tried it with my youngest due to his allergies, nor have I tried replacing it with an egg substitute yet. But my oldest devoured them no problemo! If you do try making it egg free, let me know how it turns out!
Here's another recipe by Shuangy's Kitchen Sink.
Now, I have not tried this recipe yet, but I SO want to! I just have a ton of things on my list of to-do's at the moment, so I've not been able to be in the kitchen very much lately. I'm super excited to see how they'll go with some nice-cream recipes, like this coffee ice cream or a vanilla ice cream.
This super easy, super quick recipe from Live Simply moves us out of the pumpkin field and into the apple orchard.
We usually bring this dish as a side dish, but it could easily be turned into a dessert by topping it with a bit of this healthy version of vanilla ice cream.
You could even make this as a main dish by cooking up some chicken or turkey and mixing it all together!
Sautéed Cinnamon apples
I don't actually have a recipe for this one. Sure, you could go find one online, but it's so easy you don't need one! I've written down the steps below anyways for those that need it. Just know, there's so much wiggle room for this that you can't mess it up!
I love apple pie, just not the crust. So really I just like apple pie filling! And this recipe is the perfect solution since it tastes just like the inside of an apple pie!
I typically use granny smith apples, but you could use gala or honeycrisp, too. Pretty much any sweet or tart apple works great. Use as many apples as you need for your family. One apple per person is a good start.
This is a super easy dish to whip up for those unexpected dinner guests.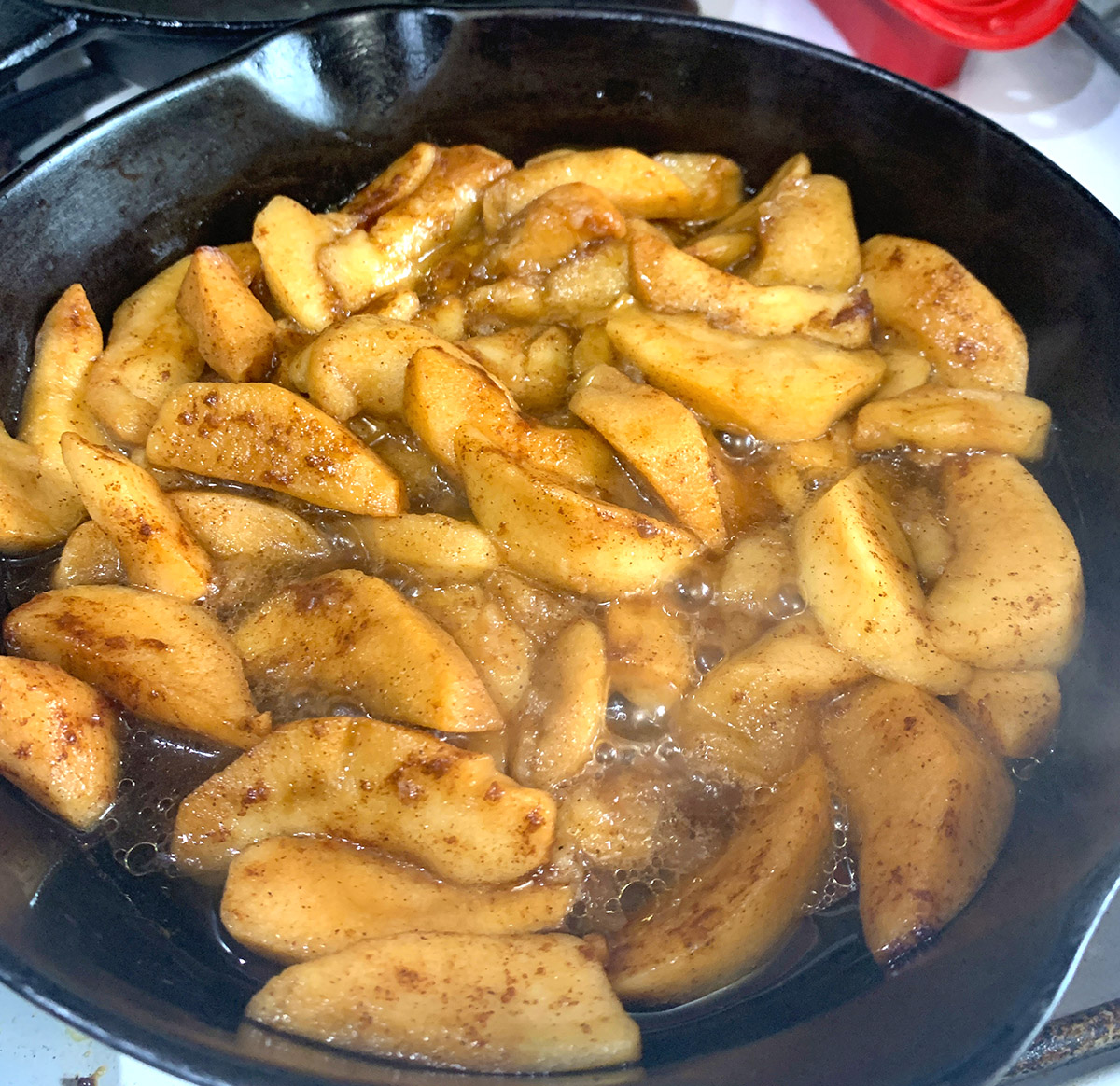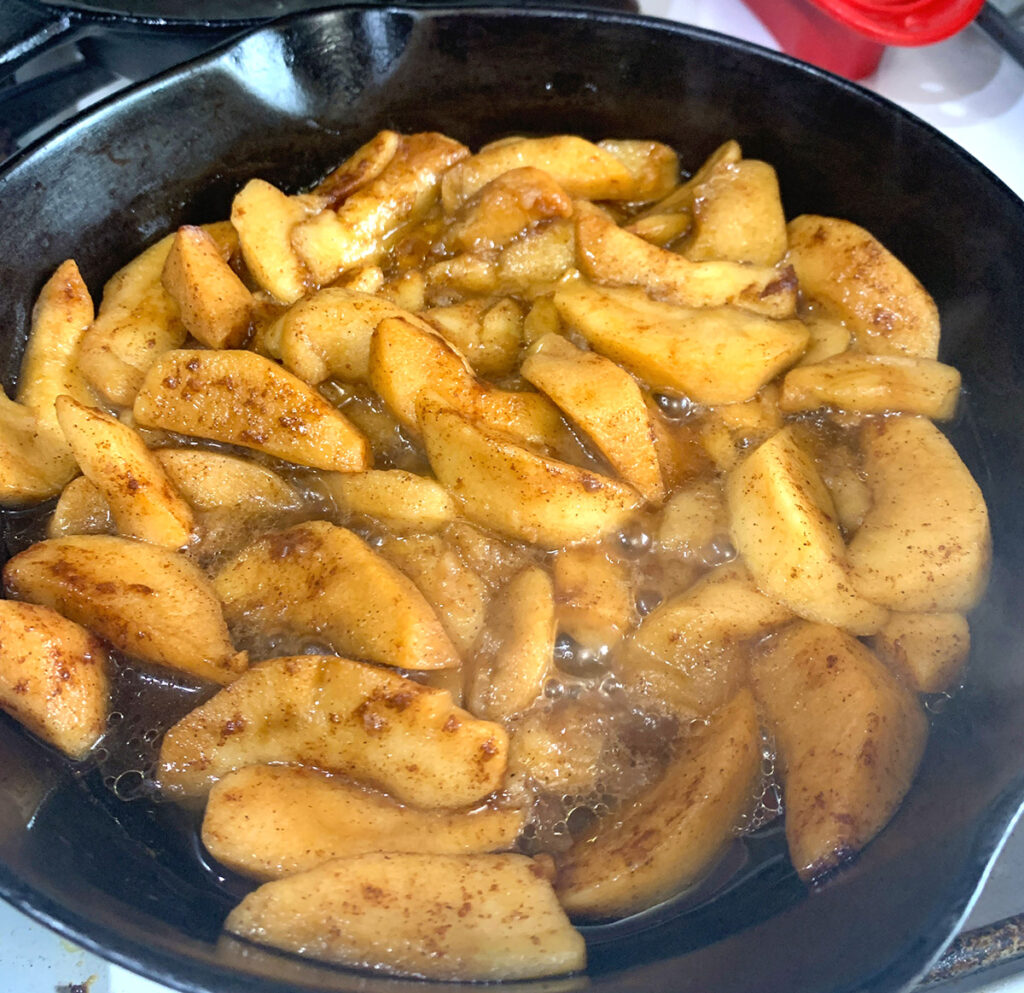 Print
You can choose to leave the skin on, but I've only ever cooked these with the skin off. Peel your apple (or don't) and slice it into thin apple slices. About half the size of what a handheld apple slicer slices them into.
Toss sliced apples into a bowl and sprinkle with cinnamon to coat. If you like a lot of cinnamon then add more. If you don't like as much cinnamon, then add just enough to give them all a light dusting of cinnamon. Stir all together to coat evenly.
Heat up a frying pan that's big enough to have the apples lay in a single layer. A little overlap is fine, too. Keep heat low to medium.
Add a spoonful or two of butter, ghee or coconut oil to the warmed up pan.
When butter or oil is melted, toss in apples and give it a stir.
Fry until you get your desired softness of the apple, stirring every five minutes or so. Add more butter if needed. The longer you fry them, the softer they'll be. If you prefer firmer apples, then don't fry for as long. I usually fry mine anywhere from 10-15 minutes depending on how big of pan I'm using. We like our apples to be super soft. Prick with a fork to test how soft they are.
We eat ours just plain, but you could top with a bit of homemade caramel sauce, yogurt or a whipped topping if you like. Or they make the perfect topping to ice cream, pancakes or waffles!
I've used frozen apples for this and they worked perfectly as well. So if you get a big batch of apples, don't be afraid to slice them and freeze them for later use in recipes like this one. You can even freeze them with the cinnamon on them!
Move over pumpkin spice latte, fall is showing up in a cold cup! This amazing smoothie recipe from Stow and Tell U literally tastes like fall in your mouth. (Scroll to the bottom of the article to find the recipe.)
If you don't find yourself on the pumpkin spice bandwagon, then try this recipe for a new favorite fall drink! I bet it would even be tasty warmed up.
This apple dessert is not a combination you would normally think of trying, but it's SO delicious!
This Caramel Apple Cream Cheese Spread recipe by Inspired Charm couldn't be any easier to whip together.
I use this caramel sauce by Clean Cuisine for most of our caramel needs and it works perfect with this recipe. The recipe does call for toffee bits, but I've never used those. I have topped with crushed peanuts before, but find we like it just the same without any toppings.
Alternately, I bet you could whip up the cream cheese and then stir in the caramel for more of a dip than a spread if that suits you better. I've just not tried it that way. Let me know if you do!
This is the perfect recipe for those last minute oh yea, I was supposed to bring something to the party moments. You're welcome!
If you try one of these recipes, I'd love to know about it in the comments below!
---