This post contains affiliate links. As an Amazon Associate, I earn from qualifying purchases. Should you click an affiliate link and make a purchase, I may make a small commission at no extra cost to you. You can read more about it here.
Summer time shenanigans are in full swing over here and I wanted to share a few easy and healthy summer treats we've been snacking on to help stay cool. Popsicles!
These treats aren't loaded with fake sugars, preservatives or artificial additives, either. Have you read the labels for popsicles these days?! No, thank you. These popsicles are ones you can feel good about your kids snacking on!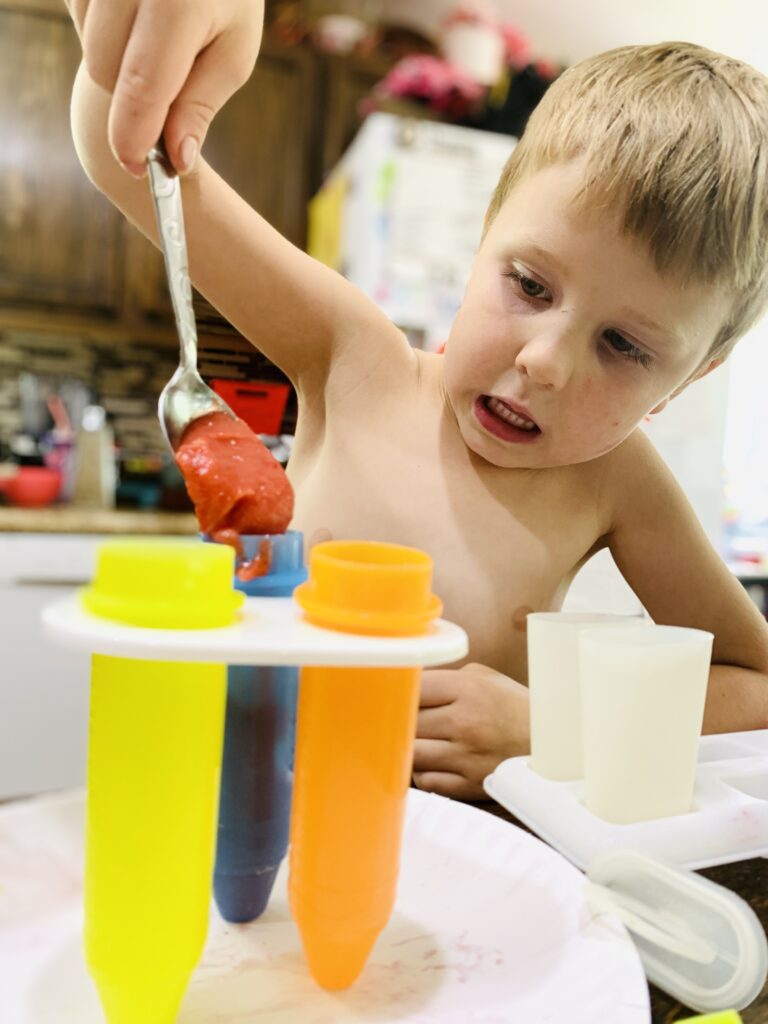 One of the easiest treats we have almost every day is our Strawberry Beet Mango Popsicle. Homemade popsicles are a fun and easy way to spend a bit of time in the kitchen with the kiddos. I'm pretty sure my kids like helping because they get to lick everything when it's all done!
Popsicles are such a versatile treat, too, which makes the possibilities limitless! And have I mentioned they're easy to make? Blend up some fruit, freeze and you're good to go.
I've put measurements in with this particular recipe because that's what you're supposed to do in recipes, right?
But, for real, you don't even need to measure things out, just eyeball it! Not a huge fan of mangos? Switch it out with some other fruit. Want more mangos than strawberries? Go for it!
I'm seriously one that hates having to go by measurements in the kitchen, which is why I love this recipe. For the beets, though, I'd stick with just ¼ of a medium beet, or even a bit less if desired. The mangos and strawberries cover up the beet taste so the kids don't even know it's in there! If you like beets then feel free to add more.
Beets are chalk full of goodness, which is why I try to add them in where I can into our food. So as not to bog down the recipe post, you can read a bit about those benefits here. I've never been a huge fan of beets and my kids appear to be taking after me on that one. But this is one way I don't mind getting them in me and the kids!
I boost these popsicles with some extra Vitamin C with our dried ground Camu Camu berries. But it's totally optional and not necessary as they're jam packed with vitamins and minerals as is.
Strawberry Beet Mango Popsicle
Difficulty: Easy
These popsicles are a quick, easy, and healthy treat for the kids without any feelings of guilt since they don't have any artificial ingredients. Popsicle molds are the only piece of equipment you may need to purchase. (We scored ours from the dollar store!)
Ingredients
1-2 cups strawberries (fresh or frozen)

1-2 cups mangos (fresh or frozen)

1/4 of a medium beet, peeled and diced

2 tsp of Vitamin C powder (optional. We use Camu Camu berries for this)

Kiwi (optional if not tangy enough)
Directions
Place all ingredients in a blender or food processor and puree until smooth.
Poor into popsicle molds.
Freeze 5-6 hours or overnight.
Notes
The serving size for this recipe will depend on whether you decide to use 1 or 2 cups of each kind of fruit and the size of your popsicle molds. In general, it makes about 8-10 popsicles.
Feel free to have fun with this recipe by placing chunks of fruit into the molds as well. And don't be afraid to try different blends of fruits and veggies!
We've experimented with different fruits in this recipe, but so far the recipe above has been the kids favorite. I add the kiwi when I have it, but most times I don't include it. I made this recipe without the beets a few weeks ago and they actually asked me to put them back in the next time we made them because they liked it better!
Other popsicles for kids you can try
We recently tried this Strawberry Rhubarb Creamsicle from Raising Generation Nourished. I replaced the whole cream with coconut milk to make it dairy free for my youngest. We also used honey instead of maple syrup like the recipe calls for. I didn't use fresh rhubarb, either, as I already had some that had been sautéed and frozen in ice cube trays. Overall, I think the popsicles are very tasty and I enjoy the creamier aspect of the popsicle, but the kids weren't a huge fan because of that creamier taste. And to be honest, there is a bit more work with this one than what I like. But it was a great way to use up some rhubarb I had been wanting to get out of my freezer!
Once my kiddos find something they like they tend to stick with it for a while … which is okay with me as it gives me time to find other recipes to try! But other popsicles on our list to try are:
Banana Chocolate Popsicles from Blend with Spices. We'll substitute the milk to make it dairy free. Or I might replace it with an Avocado. **Update: We've tried this recipe recently and LOVE it! We're still working on the chocolate avocado recipe, but I'll share when it's perfected.
This Fudgesicle from Prep Dish looks deliciously easy.
I'm also working on a chocolate avocado popsicle recipe. I hope to share the recipe soon!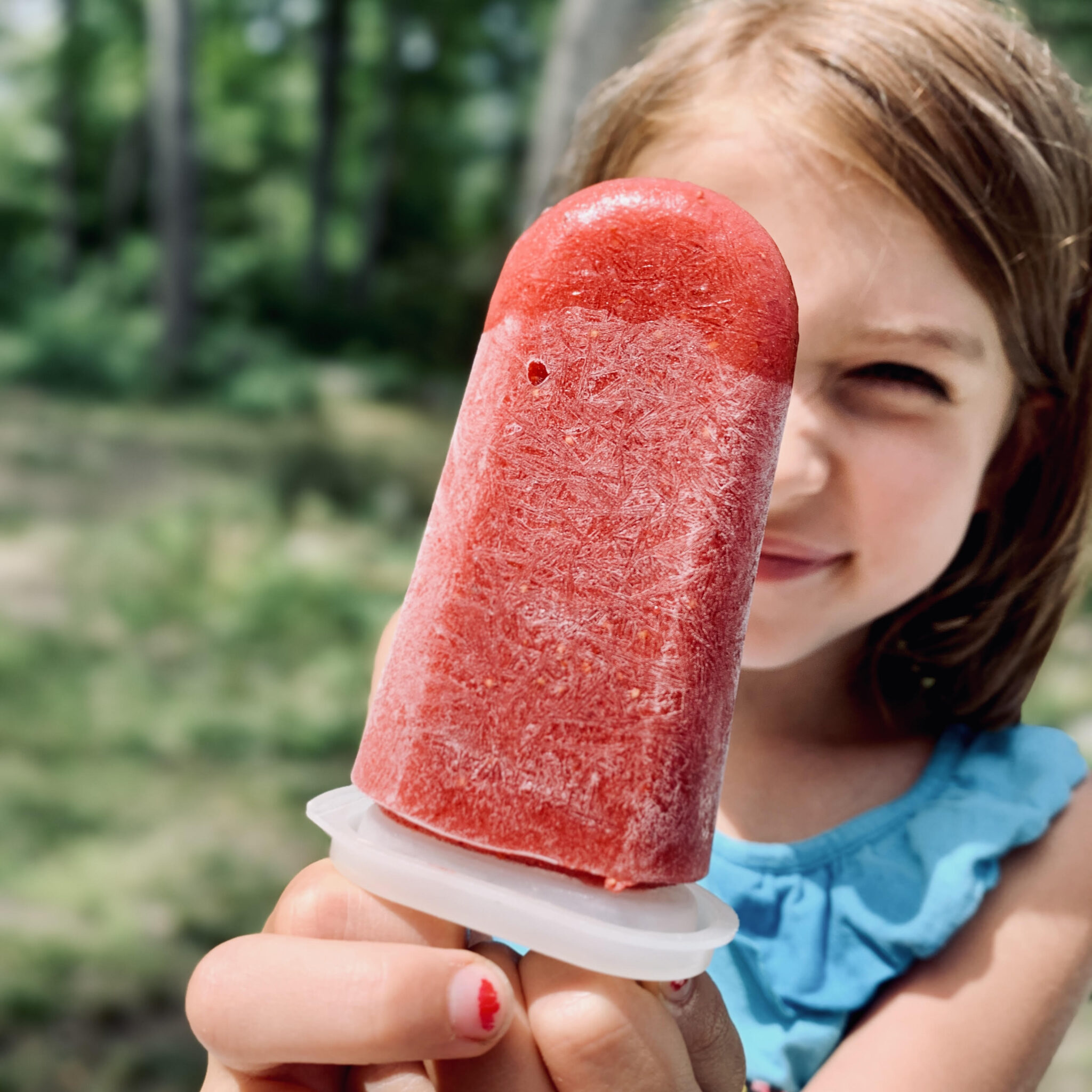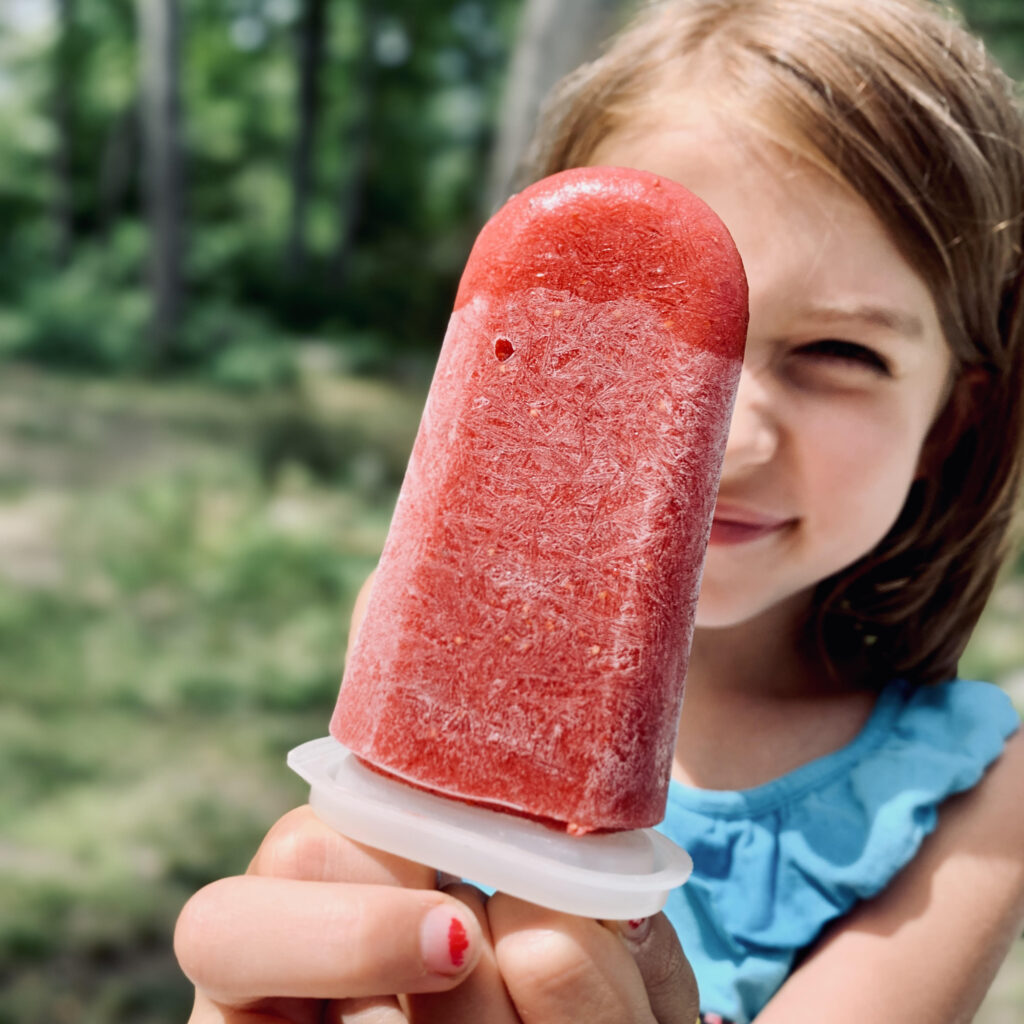 If you look for your own popsicle recipes on Pinterest, just stick with simple ingredients. Anything that feels complicated or involved, skip it! Keep it easy and simple.
Popsicle making truly isn't hard and isn't complicated. Just find the fruits your kids like, add in a veggie of some kind when possible, or some Vitamin C, and voila! You can rest easy knowing that they're only getting whole foods, no artificial sweeteners and no preservatives.
If you try any of these recipes or do your own variation of it let me know! Or if you have a favorite recipe share it in the comments!
---