This post is not sponsored by Thrive Market, but I am an affiliate of theirs, which means I make a small amount of commission when you purchase through one of the links in this post, at no additional cost to you. You can read more about it here.
In this post, I'm going to give you my honest assessment of using a food delivery company, specifically, Thrive Market. Maybe it's right for you, maybe it's not, but I'll give you the pros and cons of what our experience has been. And maybe it'll be a great option to help you save money on healthier food items!
Why I started with Thrive market
I was always skeptical of any food delivery company because I like to look at what I'm buying before I buy it. Not quite sure I trust someone else to inspect the strawberries for any mushyness quite the way I do. And the fact that some of these companies wouldn't even let you see what they offered unless you signed up first was a turn off for me for a long time.
But the prices in the grocery stores for the foods I was looking for were just as big of a turn off! With food sensitivities and allergies in our family, our options are sometimes greatly limited with what's available in the stores. While the stores around here carry some of the foods from companies we like and trust, it's always hit or miss if they're in stock. I typically have to make three different stops to get them all. The idea of having them delivered to my door really started to appeal to me … especially in the winter months since our grocery store is a 30 minute drive away!
So, of course, an ad for Thrive Market came across my Facebook feed – kind of creepy how Facebook just knows. Anyways, Thrive was offering a 30 day money back guarantee and a free gift when you signed up. With a money back guarantee, what did I have to lose? And who doesn't love free stuff? Besides, I decided I really needed to see the products they offered if I was going to compare their prices to what I was spending in store to determine if I could save money with them or not. And I may have been officially convinced with a free water bottle. No judging. Everyone has their weakness! 
What is Thrive Market
Thrive is basically an online health food store. They carry organic, sustainable, non-toxic products, and exclusive brands. For about $5 a month, you can shop for thousands of items that are typically cheaper than in store due to the huge discounts they offer. Also, if you find a price cheaper than what they have, they'll match it! 
What kind of savings are we talking about? I'm glad you asked.
We, for example, use ghee instead of butter since my dairy allergy kiddo is able to tolerate it. In our grocery store, it costs $19.89 for a 13.5 oz jar. I can get the same size through Thrive for only $9.49. That's a 52% discount! And avocado oil in our grocery store is $12.99. I can order it through Thrive for $8.54, which is a 34% discount. These are the types of discounts you see all the time on their products. Although, sometimes I find good sales in the stores, but not often.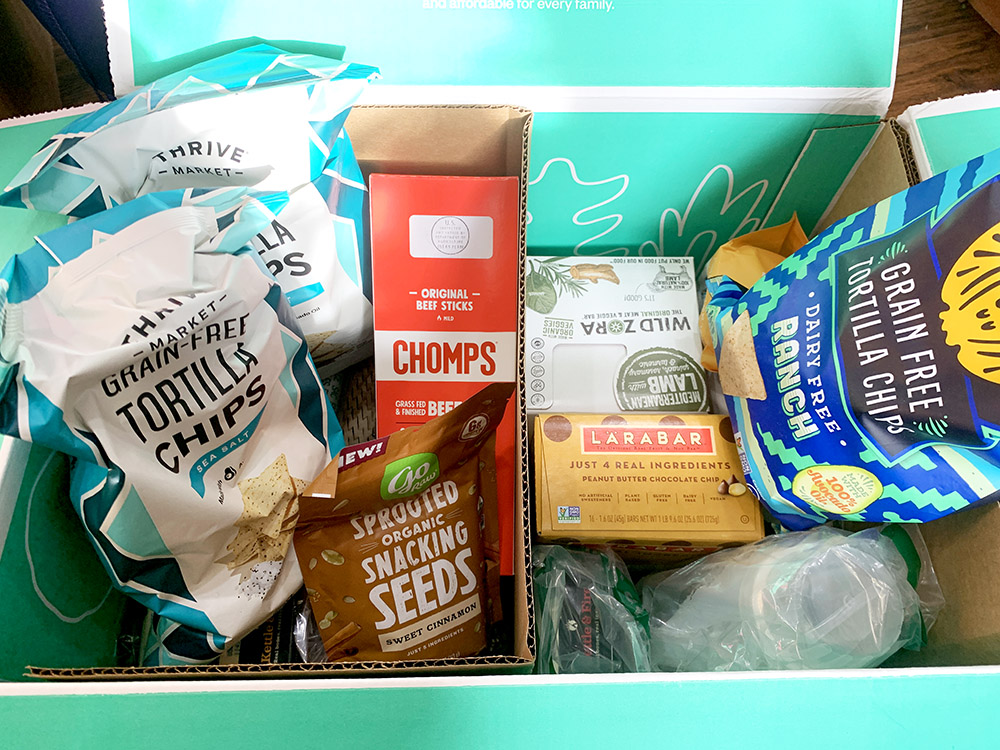 Some of the products you can order through Thrive Market include:
Healthy snacks
Pantry staples
Wine
Grass-fed/pasture raised meats
Sustainable seafood
Frozen foods
Supplements
Personal care and beauty products
Household goods like toilet paper, tissues, and paper towels
Household cleaners
Products for your pets
Essential oils
The majority of the items are packaged products. And, yes, I'm a big supporter of eating whole foods that aren't processed or packaged, but the reality is that I'm a busy mom and some processed and packaged foods are a part of our life for now. I just choose to eat the ones that are healthier with minimal ingredients in them and Thrive Market makes it easier to shop for those. You can read about my thoughts on processed and packaged foods here. 
I've not yet tried their meats or frozen foods. And the only thing I wish Thrive carried was fresh produce, but they don't. Maybe someday!  
How Does Thrive Market Work
Paying for a membership is something we're all familiar with really. Stores like Sam's Club, Costco and even Amazon Prime are a few examples. And many of us are happy to sign up for Prime and it's free shipping!
With Thrive, you can pay monthly or annually. With the annual membership, though, you get their 30 day risk free trial. So if you decide within those 30 days of signing up that you want to cancel, you get your money back. You can read more about it here. 
Once you're a member, you can shop by your diet preference, by aisle, deals, or type in specific things that you're looking for. You can add items to a favorites list or have items autoship. Typically you get extra savings when you choose the autoship option. You can select to have your autoship items added to your cart that day, have them ship in the next couple of days, or have them come every 4, 6, 8, or 12 weeks. If you decide you need a few things here and there during the week, you can select just a few items to have them shipped, although, you get free shipping on orders over $49. 
Is Thrive Market really worth it?
Honestly, I didn't think it was going to be worth it because I just didn't think I'd be saving money by spending money on a membership.
My first order I did was fairly small, and I only spent $50.34. But I saved $46.50 with the discounts! I ordered again 2 weeks later and spent $73.14 and saved $83.09 with the discounts. Already I had saved more than what the membership fee was, just in one month's time! 
Here's a pic of my savings after just five months of using Thrive Market. I purchased the membership at the beginning of June 2021.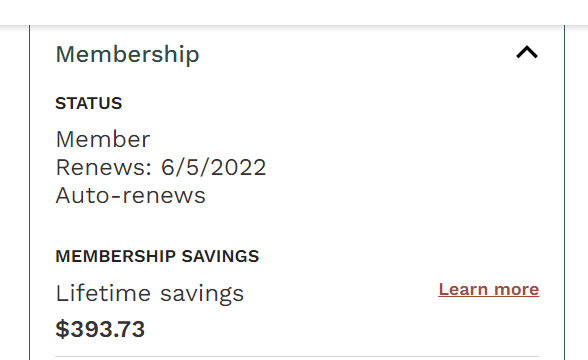 So for my family, yes it's worth it. And if you're looking to shop healthier items all in one spot then it definitely could be worth it for your family, too.
Pros and Cons of Thrive Market
So here's my breakdown of what I like and don't like about Thrive Market
Pros
HUGE variety of health foods, way more than what your local grocery or health food store will carry.
HUGE discount on health food items (most often cheaper than what's in the physical stores).
The app is user friendly and easy to navigate.
Will price match any lower price you find somewhere else. 
Delivers right to your house.
Free shipping on orders over $49.
Options to schedule shipments for a set it and forget it type thing.
Easy to change scheduled shipments.
Often shipped and delivered within 4-5 days after purchase, sometimes sooner. 
Offers free gifts through app, emails and texts. So far I've received 4 free gifts!
Notifies you of sales going on through app, text, or emails. 
Ability to sort favorite items for easy browsing.
Saves orders so you can see what was purchased, what was spent, and how much was saved. 
Eco friendly packaging.
Cons
Membership fee, but it does pay for itself in time.
Can't browse products without buying into membership first.
Not every food item has ingredients I think are the healthiest options, so you'll still need to check the ingredients list.
You do have to plan ahead as it takes about 4-5 days from ordering to delivery.
Can't get produce through them yet.
Not everything is always cheaper through them, so you do have to compare prices sometimes. They do price match, though.
Final Thoughts on Thrive Market
Overall, the pros have outweighed the cons for us when it comes to using Thrive Market. And the savings have been worth it. Since we have limited health food store options in our area, it's been a huge bonus being able to expand our food options while reducing how many trips and stops I have to make. Which, of course, helps save on gas too!
If you want to give Thrive Market a try, you can click here to purchase a membership and get 40% off your first order! If you decide you don't like it, you can cancel it within 30 days and get your membership fee back.
Favorite Products through Thrive Market
I've listed below some of our favorite Thrive Market products we like to order. Keep in mind, if I see a better deal grocery shopping, I'll just pick it up then instead of trying to do the price match because I'm just lazy sometimes. Give a mother a break. And the Thrive app makes it super easy to check their prices when you're on the go.
You can use this list to help you if you purchase a membership or to check for these products in stores to see if you can find them cheaper. Just remember, they'll match the price if you take the time to send it to them!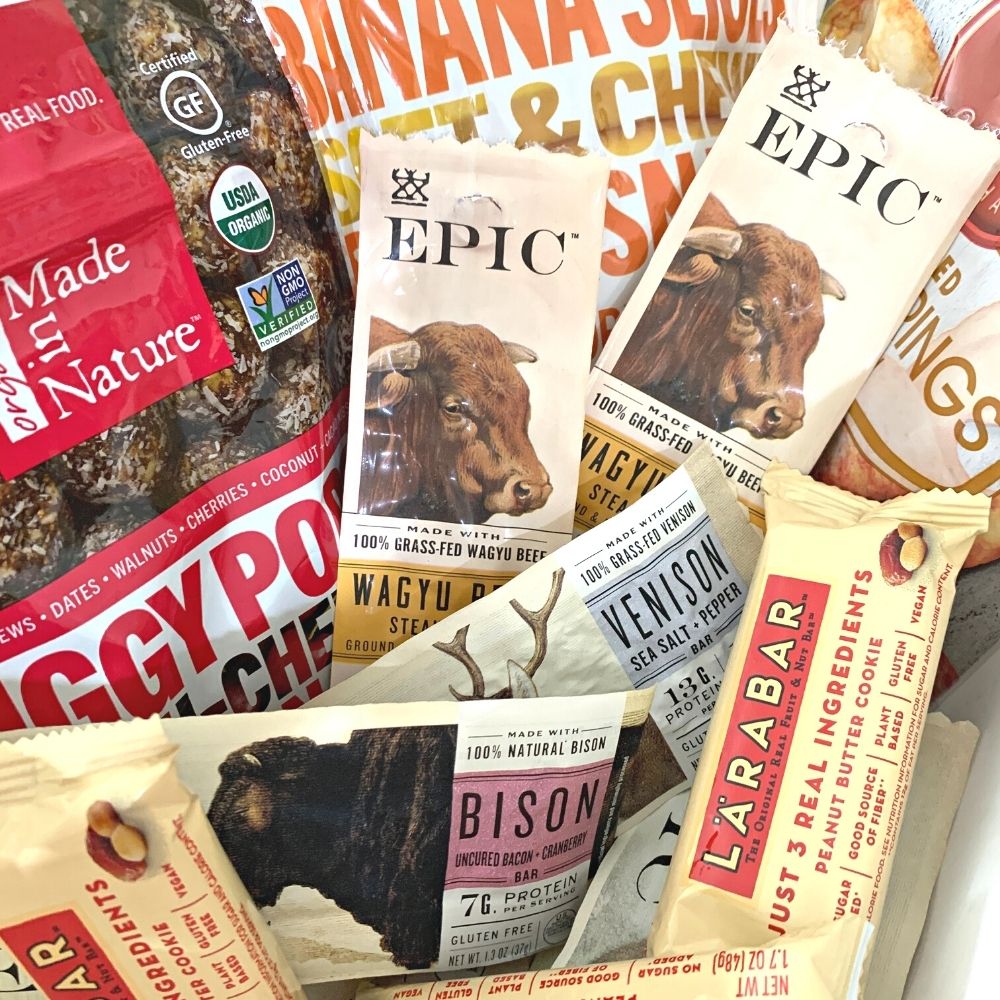 Redmond's Real Salt, Sea Salt
Organic Strawberry Apple Sauce Pouch with Probiotics
With grocery prices on the rise, Thrive Market has been super helpful in finding quality products at decent prices. And I don't have to make as many stops grocery shopping! Dream come true for every mama, amiright?!
---